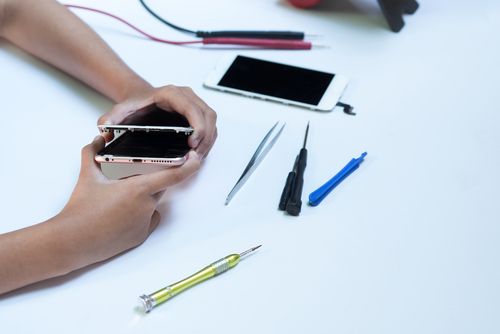 iPhone 6 screen replacement cost in Bangalore

The cost of replacing the iPhone 6 screen totally depends upon the type of screen you choose, Whether it is an Original screen or first copy screen.
iPhone 6 screen replacement cost @ 4200 INR incl of all taxes with 1 years of warranty.
Alternate to the original screen we have first copy iPhone 6 screen which cost you @ 2800 INR incl of all taxes with 3 months of warranty
The difference in the first copy screen and original screen is brightness and color saturation, the feel and touch are totally different compared to the first copy with the original. We always recommend our customers to go with the original one as it gives you the touch and feels as new iPhone.
Another disadvantage of the first copy is frequent touch issues, color brightness which may affect your eyes.
Again, it is up to customer choice.
At iFix India, your iPhone 6 screen replacement is done by our expert technician who has 7+ years of experience in the field.
iPhone 6 screen replacement details:
1. About Quality: 100% genuine and original one.
2. Warranty: a) Original: 1 years warranty
b) First Copy: 3 months warranty
3.On-site repair: Yes, we do provide on-site service for our customers who aren't able to visit our store. Our expert technicians reach your convenient /provided location.
4.Pickup & Drop facility: Our expert technicians pick and drop your device at your doorstep.
5.Payment: We accept all the payment modes. Cash/ Card/ Online payment. Get 10% discount on cash payments.
We are located @ 5 central locations in Bangalore: Koramangala, Marathahalli, CMH Road, Indiranagar, Kammanahalli.
Quick, transparent and affordable service at your doorstep. Call +917676400900 or visit us at iFixindia to book a service.