After the stellar success of iPhone 6s and 6s Plus, Apple is gearing up to launch another iPhone today. It's time for Apple's March event for which Apple sent out these invites: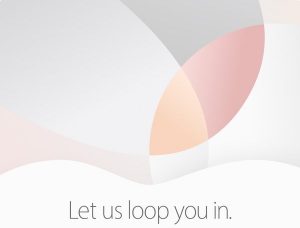 If rumours are to be believed, Apple is going to launch a Smaller iPhone (Yes, you read that right), A Smaller iPhone along the lines of iPhone 5s which will carry the design language of iPhone 6/6s. This new iPhone is going to be called the iPhone SE where the SE stands for Special Edition or whatever else Apple decides to rename it.
Specification wise, the iPhone SE is believed to carry a 12-megapixel camera ( the same one which is on the iPhone 6s) with the ability to shoot 4k video and Apple Pay support. It is also believed to have the A9 chipset with the M9 co-processor along with 1 GB of RAM, featuring always-on Siri. But Note that it won't have the 3D Touch functionality the iPhone 6s has, although it may support live photos.
With the specifications out of the way, let's talk about the price. The expected price of iPhone SE is going to be $450 which roughly translates into Rs. 30,000 for the 16 GB base model without taxes. Accounting in the taxes, it might cost anywhere between Rs.36-40k in India and the 64 GB version will be priced around Rs.50k.
So here's the question, Should you buy it?
Here's the answer: No. Simply put, Instead of spending 40k on the smaller iPhone SE, you can buy the iPhone 6s which costs roughly the same amount. Here are the pros of it :
By choosing the iPhone 6s, you get:
A bigger screen.

Better functionality (3D Touch, etc).

More RAM, suitable for multi-tasking.

Better Performance.
The cons of it : Not so much. If you are using the iPhone 5s with the hopes of finding a phone that is the same size of your current phone, then wait no more. The iPhone SE is for you.
On the other hand, If a used iPhone is what you're looking for, call iFix India's centres. We have a wide range of iPhones in pristine condition.
We offer:
Used iPhone 6s, Used iPhone 6s Plus, Used iPhone 6, Used iPhone 6 Plus and Used iPhone 5s.
Hurry, Call now on : +91 7676 400 900
Limited Stock.